The Everyday Setup
$60
Get your instrument playing right! Most guitars and basses need this service a couple times a year to adjust for changes in humidity and temperature. You know you need it if your guitar starts buzzing when you play it, or the action (string height) seems high or harder to play.
Here's what's included (as needed):
Re-string
Fretboard conditioning
Truss rod adjustment
Minor nut slot adjustment
Bridge/saddle height adjustment
Intonation adjustment
Check/clean electronics
Install strap locks
Strings and other replacement parts are added on to the base price.
The Pro Setup
$99
When your instrument needs a bit of extra love. Our Pro Setup includes everything in our Everyday Setup, plus any of the following additional services. If your guitar needs more than one from the below list, they are added a la carte for $30-40 each.
Additional services (one included in the Pro Setup base price):
Fret levelling and re-crowning of uneven frets
Fret dressing (for sharp/rough fret edges)
Fret polishing
Nut replacement
Saddle replacement
Deep cleaning or rust treatment
Scratch removal/buffing
Hardware replacement/changes (tuners, bridge, pickguard, etc.)
Strings and other replacement parts are added on to the base price.
Output Jack Service $40
Repair or replace the output jack (parts are extra)
Basic Electronics Service $60
Replace a pickup, switch, or pots (parts are extra)
Deluxe Electronics Service $100
Replace multiple pickups, partial or complete rewiring (parts are extra)
Other Guitar Help $30
Restringing (strings are extra), install an extra strap button, clean scratchy pots, etc.
Tube Amp Service $90 per hour
One hour minimum charge. Services available include: Re-tube, bias, jack repair, pot repair, speaker replacement, power cord replacement.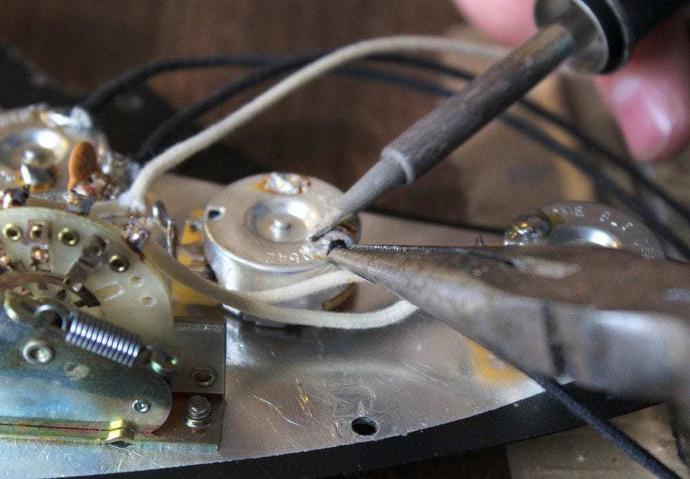 **Note** All prices listed are base prices for labor. They do not include parts, strings, tubes, etc.
Please bring your instrument in a case or bag. We are not responsible for accidental damage to naked instruments!
Electronics work on semi-hollow and hollow body electric guitars is more labor intensive and will cost more.
Amplifier repair applies to tube amplifiers only. Schematics are not always available, which may make problems too costly to troubleshoot and repair. Amplifier repair will have a minimum charge even if the issue ultimately can not be fixed.

Standard Maintenance
Includes 6 Everyday Setups per year (like getting one free!)
Bring in one instrument per month
10% off all other services and setups beyond 6 per year
Also includes output jack service (uses up one setup)
The Works
Includes 10 guitar services of any kind per year - setups, pickup installs, etc.
Bring in one instrument per month
10% off all other services beyond 10 per year
Combine with one of our Guitarister plans to really rock!