Guitar, Bass, and Ukulele
Lessons for Kids
The Laboratory offers guitar and bass lessons for kids, starting at age 7 and up, and ukulele at age 5. We've been teaching kids guitar since 2007. Many of our students have gone on to become successful musicians both professionally and as hobbyists. Our instructors will tailor your child's lesson experience to them individually, and they will quickly be playing the songs they love and want to learn!
Kids can begin lessons on electric or acoustic guitar, bass guitar, or ukulele!
If you don't own an instrument already, don't worry. We rent and sell all kinds of guitars, basses and ukes. In our opinion, renting is the smartest way to go for a new student if they don't have an instrument already. Keep reading for more on that. Or Click to Register now!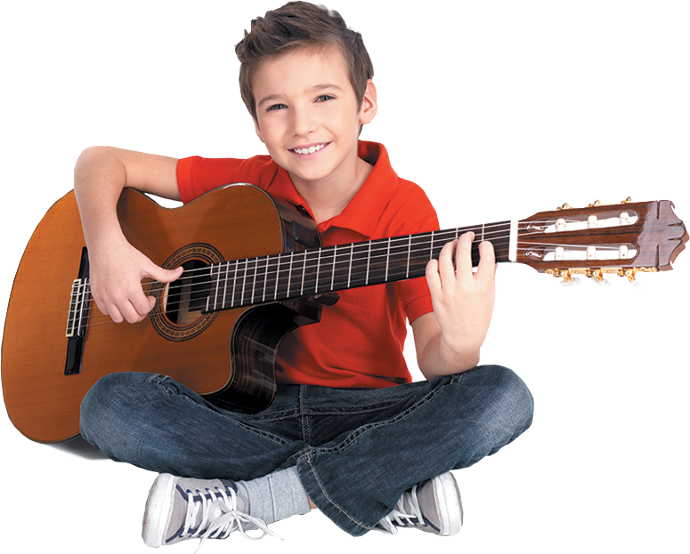 Common Questions
Why do you start at age 7 and not younger?
Playing a guitar or bass involves a fair amount of pressure on the fingertips to press down the strings. Many young children find this uncomfortable. Also, their arms are often not long enough yet to hold the instrument properly. In our experience, around age 7 these things start to be less of an issue and students have more success. Also, bass guitars are a bit longer than acoustic and electric guitars, so sometimes it's best to wait an extra year or two to start bass. We do offer ukulele to younger students because it's much smaller and the strings are softer. Sign Up Here.
How often should my child practice?
Preferably, every day for 10 to 15 minutes. Just playing at the lesson and not practicing in between is not going to work. Our instructors set up practice reminders in our lesson app, and can track practice time with it. As a parent, you can log in to the app and see what your child has been doing practice-wise. For more reasons to take lessons at The Lab, click here!
My son or daughter isn't old enough to have a cell phone or email. How will they get practice reminders?
We suggest that you enter your phone number or email in for the student contact so that those messages go to you instead. You can opt out of them, but we don't recommend it because we want your child to succeed. You can always change those settings when you need to, and add a number or email for your child when they're ready. Sign up Today!
Tell me more about renting a guitar. Why do you think that's the best way to start?
We've been in the musical instrument and music lessons business long enough to have made some observations about instrument quality and student success. Most entry level instruments are low quality, which makes them harder to play. Strings are harder to press down, they don't stay in tune, they have sharp fret edges which are uncomfortable, and other issues. The guitars we rent to students are intermediate level instruments, not entry level. They typically retail for $350 to $600 or more. Students who learn on good quality instruments are always more successful, have more fun, are more willing to practice, and stick with lessons longer than students who begin with entry level instruments. So we'd rather rent a beginner a quality guitar to start on than sell them a beginner guitar. Also, for students learning on electric guitar or bass we include an amp, which is necessary.
Another fun side benefit of renting for a new student is they can swap guitars if they want. Let's say they started on acoustic guitar but want to try an electric after a couple of months. No problem! We can just swap it out. Or maybe they are using a Les Paul style guitar today but would like to try a Strat style guitar for a while. Again, no problem! Even if your child changes instruments, like from guitar to keyboard, we'll just swap instruments!
Lastly, if you decide that you're going to discontinue lessons for whatever reason, you just return the instrument. No wasted money on something that will collect dust in the closet or the hassle of trying to sell it to get your investment back!
We have a special student rate for our Guitarister Rental Club of $39 per month for guitar and bass students which will cover an acoustic guitar, ukulele, or electric guitar or bass and amp (total value of merchandise not to exceed $750). The normal base tier of the Guitarister Rental Club is $79 per month!
Why do you say you've been teaching kids since 2007? I thought you just opened recently in Blackwood.
Our Blackwood location is our return to this business that we love. We operated two successful locations for 10 years, from 2007 to 2017 in Deptford and Egg Harbor Township. For personal reasons we closed those locations, but now we're back for good! For some of the other benefits that set The Laboratory apart, click here.
I have more questions.
Send us a message here, or call us at 856-441-4065.